Latest News
Latest News
Local designer leads creative lessons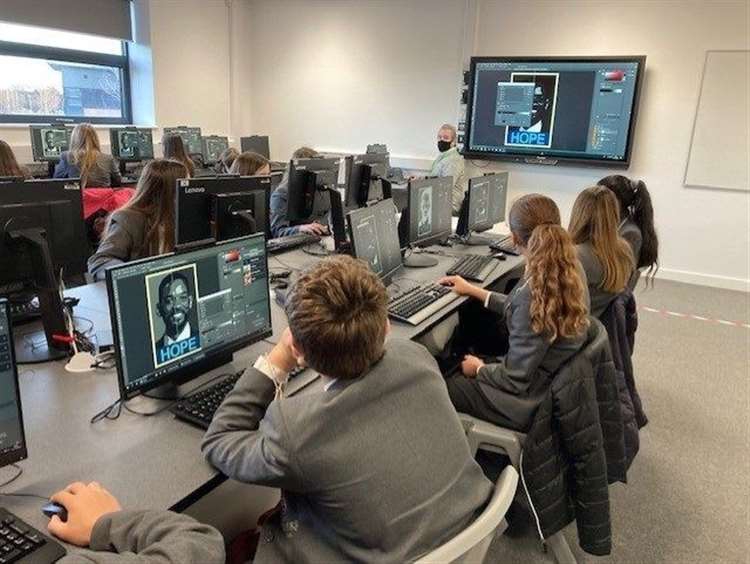 Towards the end of the autumn term, Year 8 students were excited to welcome a local designer Scott Wroe, Head of Creative, from Timico in Newark.
The aim of the visits was to elevate the students' learning about the street artist, graphic designer, social activist and illustrator, Shepard Fairey. The art team wanted the students to be ambitious in their acquisition of skills, so they employed the vast experience of Scott to enable this learning to take place.
Chloe Leach, Head of Art and Design, said: "We are so excited to have this opportunity and are extremely grateful to Scott and Timico for enabling our students to have this exposure. It is essential that the students have access to these experiences so they can see what can be achieved; being inspired by a practicing designer from their community."
The art department has a very ambitious curriculum with a wide range of enrichment demonstrated by this recent workshop. The students explore a diverse range of artists and examine the wider perspective so that they can put into context the practical learning alongside the theory, creating a knowledge rich curriculum.
The students were spellbound as they listened to Scott describing his 20-year career as a designer—he then took questions that the students had prepared for them. Each form group enjoyed two sessions with Scott where he led them through the use of Adobe Photoshop in the school's onsite computer suite. The sessions taught the students to respond to a design brief through taking an image, importing it into Photoshop and manipulating the image to echo the colour stylisation associated with Shepard Fairey.
Next week they will use this knowledge to create an original response through their use of Photoshop and their own source image to further demonstrate the skills and knowledge they have acquired from these sessions.
"The school ambitiously pursues the underpinning of all learning through a careers lens. This visit combined two important learning outcomes, the practical experience of an industry tool whilst enabling the students to discuss potential careers in the creative arena. Scott demonstrated the numerous ways a design brief can be fulfilled, providing them with a plethora of examples of work, the context of their use, whilst outlining the breadth of ways a creative career can progress," said Helen Wroe, Careers Lead.
By selecting artists such as Shepard Fairey, the art team hope to ignite a conversation about the use of creative outlets as a channel for social activism. This choice of artist demonstrates the school's commitment to the development of character alongside their commitment to academic success.
Andrew Pettit, Head of School, said: "Opportunities like this which give our students first-hand experience of industry-level practice are really important to us. It is exciting to see our students working directly with local businesses and we look forward to working in partnership with companies like Timico to really strengthen our students' understanding of the world of work and how it links to what they do in the classroom."