Buses
Buses
Please follow the below link to complete the travel survey

Travelling to and from The Suthers School couldn't be easier. The dedicated bus service below covers the catchment area providing safe, economical and convenient transport for our students.
Update: Please follow the link to map for the temporary service route to run from Wednesday 11/11/2020 until Christmas
Winthorpe Route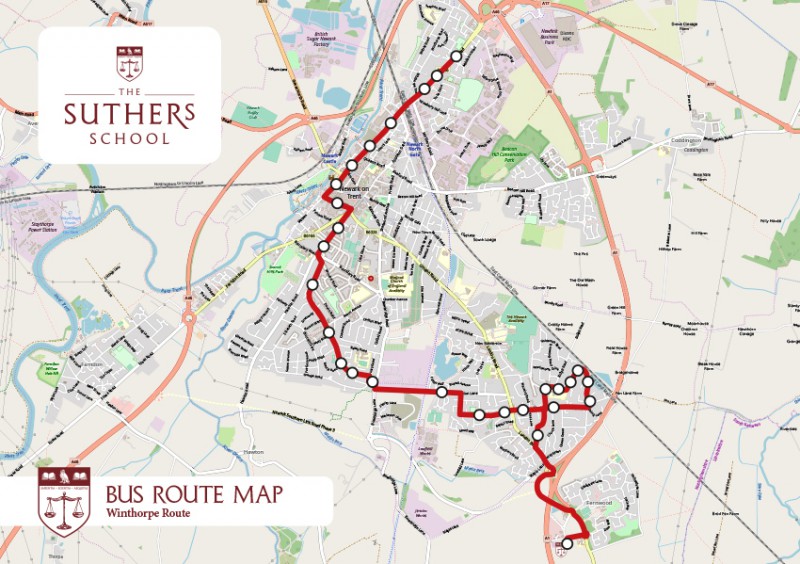 PICK-UP POINT
INBOUND TIME
OUTBOUND TIME
Gainsborough Drive
St Leonards Church
Beaumont Walk
07:45
16:45
Lincoln Street
Opposite Aldi
Kirk Gate
07:48
16:42
Castle Gate
Lombard Street
07:52
16:38
Albert Street
Chatham Court
Rufford Avenue
Windsor Avenue
07:55
16:35
Eton Avenue shops
Chantry Close
Lilac Close
07:58
16:32
Gill House
Russell Avenue (Balderton)
Lansbury Road
08:00
16:30
Wilfred Avenue
Mount Road (Balderton)
Sykes Lane
08:05
16:25
Brisbane Court
Wolfit Avenue
Nightingale Close
Tenzing Walk
Kennedy Walk
Alvey Road
Pinfold Lane
08:10
16:20
Shelley Close
08:15
16:15
The Suthers School
08:20
16:10
Coddington Route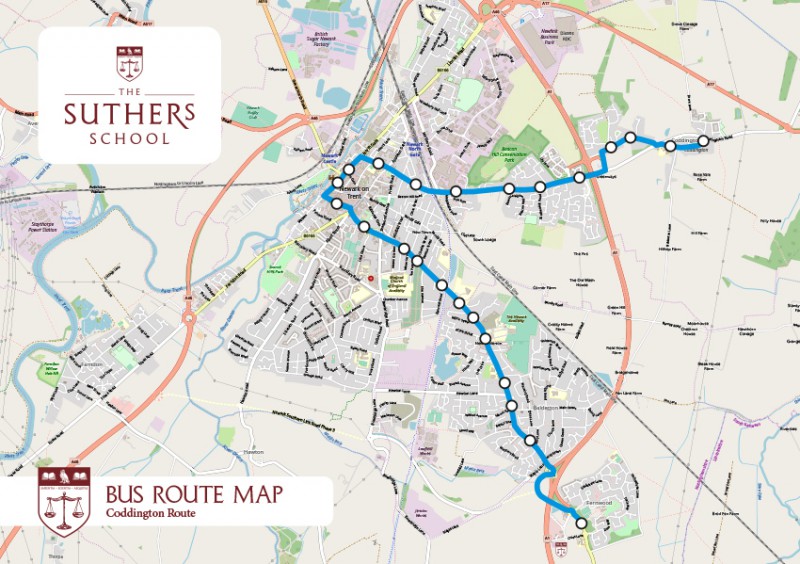 PICK-UP POINT
INBOUND TIME
OUTBOUND TIME
Coddington Church
Coddington School
Parklands Close (Coddington)
07:50
16:35
Coddington Post Office
The Troc
07:53
16:32
Beacon Hill/Beacon Heights
Beacon Way (Newark)
07:55
16:30
Newark Sawmill
Lindum Street (Newark)
Ambulance Station
Bar Gate
07:57
16:28
Castle Gate
Lombard Street
08:02
16:23
London Road/Lime Grove
08:05
16:20
Wilchilsea Avenue
08:06
16:19
Polish Cemetery
The Paddocks
The Woodwards (Balderton)
Glebe Park
08:07
16:18
Grove Pub
Baines Avenue
08:09
16:16
Main Street/London Road
08:10
16:15
Sibcy Lane
08:12
16:13
Great North Road (Fernwood)
08:15
16:10
Fares
£1.60 single / £2.90 return
Pupils will be charged on a daily basis. At this time, card payments cannot be accepted on the buses and pupils will require cash to pay for their fares.
Under-16 Travel Assistance
If your child is eligible, you can apply for under-16 travel assistance via the Nottinghamshire County Council website: www.nottinghamshire.gov.uk/education/travel-to-schools/under-16-travel-assistance
May 2022
| M | T | W | T | F | WE |
| --- | --- | --- | --- | --- | --- |
| | | | | | 1 |
| 2 | 3 | 4 | 5 | 6 | 7 |
| 9 | 10 | 11 | 12 | 13 | 14 |
| 16 | 17 | 18 | 19 | 20 | 21 |
| 23 | 24 | 25 | 26 | 27 | 28 |
| 30 | 31 | | | | |