Latest News
Latest News
TSS donate to the Newark Foodbank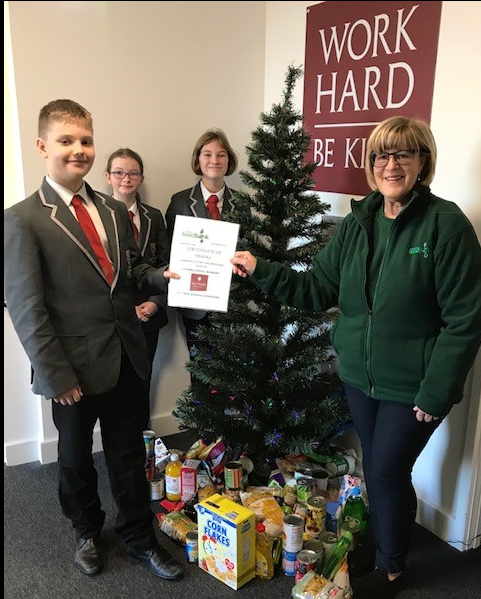 Students from Newark's newest arrival, The Suthers School, have been getting in the festive spirit this week, taking part in a reverse advent campaign in support of the Newark Food Bank as well as delivering a sack load of Christmas cards to the residents of Lancaster Grange Care Home, Fernwood.
Since the start of December, Suthers School students have taken part in a 'reverse advent' campaign. For those not familiar with the concept, it is an opportunity to think about giving rather than taking each day of the advent season. So, instead of simply munching their way through advent calendar treats, Suthers School students have used the countdown as a way of giving to those most in need in the Newark community. Every day since the 1 December, students have been donating essential items to the Newark Food Bank, a charity set up to look out for the most vulnerable members of our community. 'This is not only an opportunity to give back to the community we serve. It is also about taking positive action. Our motto at The Suthers School is 'work hard, be kind' and this kind of community action teaches students a lot about what it means to make an effort on someone else's behalf.' Headteacher, Andrew Pettit, said.
The Suthers School, currently housed in temporary accommodation in Bingham, will be moving to a permanent home in a brand new purpose-built facility near the Lancaster Grange Care Home in 2019. Until then, students and staff are keen to get to know their soon-to-be neighbours and on Friday 15 December delivered their hand-made Christmas cards to the residents. Speaking about the initiative, Literacy Lead, Vicky Barker, said, 'Even though we're a fair few miles from Fernwood right now, we wanted to let all of the residents know that we are thinking of them and that we're really looking forward to working with them in the new year'
The Suthers School welcomed its first cohort of Year 7 students in September this year. It will accept a new cohort of Year 7 in September 2018 and once at capacity will provide an ambitious education for 11-18 year olds in and around the Newark area. The school will house approximately 900 students to include a sixth form from September 2024. Plans for the permanent site have now been submitted for planning approval. To view the plans visit www.newark-sherwooddc.gov.uk or to arrange a visit to The Suthers School in its temporary home, please contact 01636 957690.
https://www.facebook.com/Newarkfoodbank/posts/1537285386326453